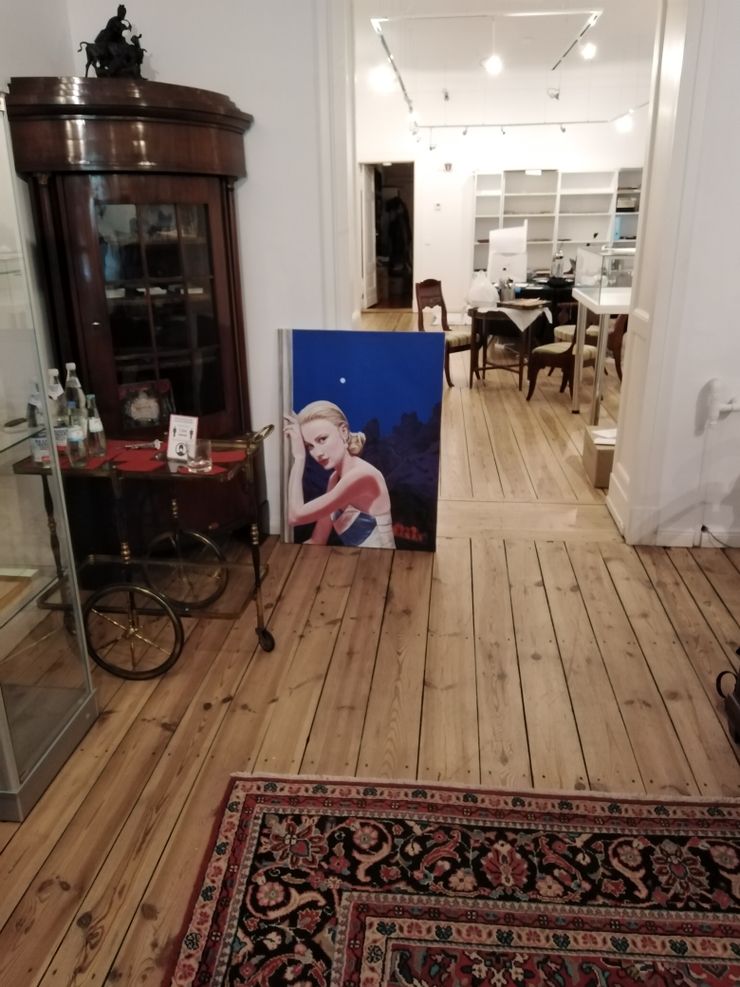 Auction "contemporary art", taking place in early november at auction house Kabinett, Berlin-Charlottenburg. More information coming soon.
BAS Galerie Soldiner Strasse 103, Berlin-Wedding, opening August, 28. from 6 pm.
curated by Igor Zaidel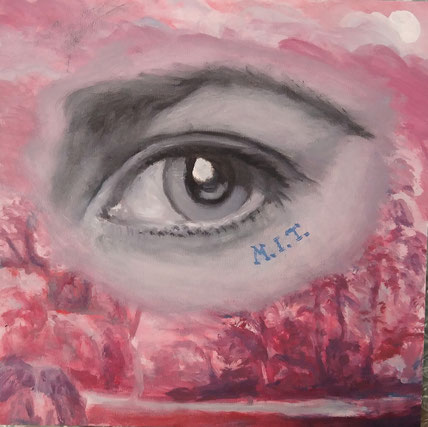 TONIGHT OPENING AT GALLERY VINOGRADOV FROM 6 . I AM GLAD TO SHORTLY ANNOUNCE A SOUND PERFORMANCE BY POWERTÖTER AT 8 PM.
you can relisten the radio arty interview for thirty days. please click here:
https://www.fluxfm.de/improgramm/radioarty/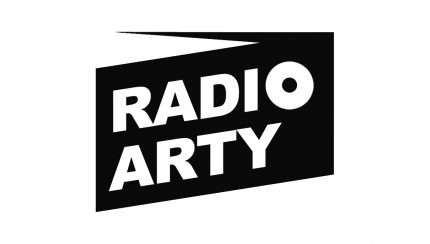 GALERIE VINOGRADOV, CHODOWIECKISTRASSE 25, 10405 Berlin  , 14-25 August 2020, opening reception on august 14. 6-10 pm.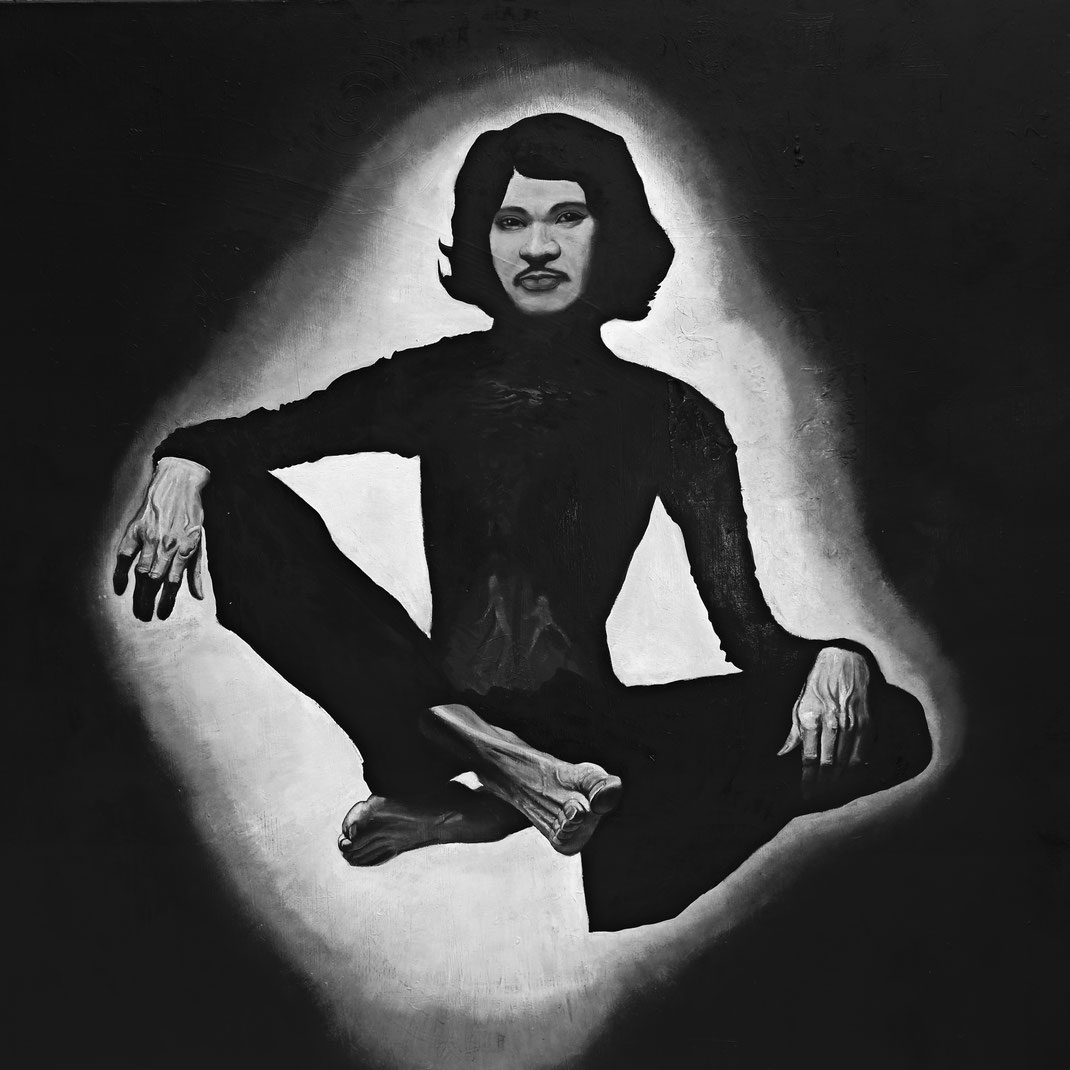 In his solo exhibition "Eagle Of death Metal" Henry Woller shows for the first time the almost complete first part of his "Shooting Grace series". Grace Kelly looks at us beautifully and nobly from these pictures. But something is wrong. The setting is barren, it is in a blue lunar landscape or in complete emptiness, it is only related to itself. The noise of the world bounces off the metallic hardness of its iconic character, is only a set for the staging of melodramatic doomsday scenarios. The picturesque ruined castle on the bank is actually a house in bombed-out Alleppo, the dancing figures in the orange hell are US police officers who are shot at by retaliatory blacks. Grace ignores all of this. She's a red-eyed zombie, an insensitive blonde beast that you'd love to blame for the impending end of humanity. From an icon of the ideal of white hypernormativity, ethnic, social, cultural, sexual, an icon of being different, the flight from the world and the amoral, its glamorous superhumanity, becomes an emblem of the non-identical. The screwed up self-image of the whites combines with the narcissism of the monadic artist to an unpleasant amalgam, the blonde narcissus is so effeminate here that he actually becomes a woman. The passive rigidity in which the Aryan goddess remains refers to the statue's persistence in itself, to the refusal of art to reveal its secret.

The quotes and allusions in Henry Woller's pictures are so complex that you can hardly grasp them at first glance. They require a patient and longer consideration. For example, the use of the quotes written in quotation marks is an indirect reminiscence of the group The Smiths and their tragic-ironic record covers, but also of Nazi propaganda posters and the dictatorship of art proclaimed by Jonathan Meese. One could initially consider the lurid exhibition title that of a Nazi war film about a squadron of bomber pilots. But isn't it rather a glorification of the destructive power of art, which rushes down on your material like a predator in order to mangle it and form something new out of it? Isn't it the self-image of the (male) artist ? Do not the first pale yellow rays of the morning penetrate through the smoke after the catastrophe of terror?
 As a supplement / corrective to these questions, there is a large black square on the opposite side, in the middle of which a snake-like hermaphrodite hovers cross-legged in a corona and into which the artist has morphed the face of Martin Luther King. Wrapped in elegant gallery black, he lets his strong, vein-soaked workers' hands hang down, like a threat, like the symbol of a potential that could turn into action, into violence. It is the hands of the fashion designer Yves Saint-Laurent, who, however, wears the haircut of the German pop singer Alexandra over his MLK mask. The chimera Martin / Yves / Alexandra is the intersectionalist ghost image, which prevents us from realizing that it may be something completely different. The figure is just a section of the picture that leads us into a nightly park landscape in which two stick figures cross the large avenue.
Opening on August 14th, 6 - 9 p.m.
wines and sparkling wines by www.kopenhagener-weinhandlung.de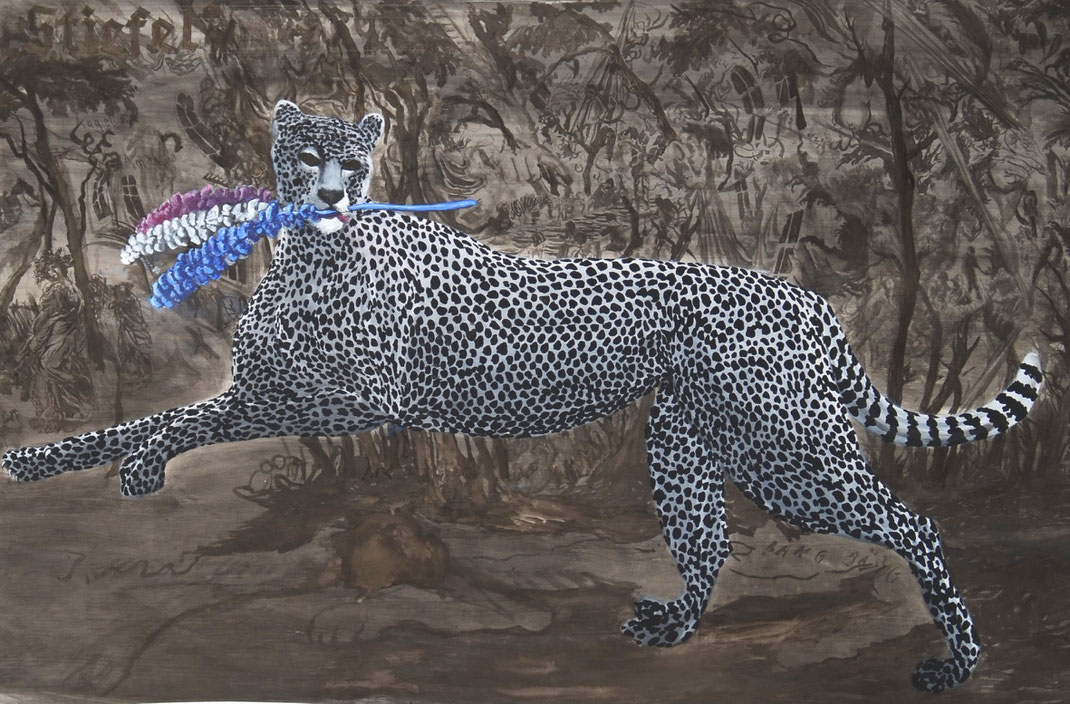 I was asked by #Yaneq to select two pieces of music relating to the issue of oppression  and its maths. I decided for "Don´t touch my hair" by Solange  and for "Powertöter" by the Berlin music project with the same name. Both songs are highly intimate and reveal moments of absolute wounding.  As Solange´s song is a clear  political statement of defense against a white ignorance trademark,   the lyrics she starts with in the first part of the verse could also be read as a request for more respect from a partner in a relationship, which doesn´t work the way it should. 
"Don't touch my hair
When it's the feelings I wear
Don't touch my soul
When it's the rhythm I know
Don't touch my crown
They say the vision I've found
Don't touch what's there
When it's the feelings I wear
They don't understand
What it means to me
Where we chose to go
Where we've been to know
They don't understand
What it means to me
Where we chose to go
Where we've been to know"
During the time the album which features the song, "A seat at the table" came out , she also released her  essay "Do you belong. I do." on Saintheron.com, in which she gives little insights to what still can happen to you in todays US when your born in a dark skin, even if you "made it". You can read it in full here:
https://missbish.com/must-read-solange-knowles-shares-touching-and-do-you-belong-i-do-essay/


 "Powertöter" which is german for "Powerkiller" is about depression. Given the fact, that it is also the name of this one man band one might give it a think how central this topic might be in the artists life.It is quiet known that musicians belong to the professional groups mostly affected by mental disease, which inevitably is on your mind when listening.
"Da siehst du´s/ so spürst du´s/ du schraubst dich ab/  damit der tag gelingt /willst nur siechen/   in Höhlen kriechen/ obwohl die Zeit nichts bringt"
"so lebst du´s/ so drehst du´s/ wo es voranschiebt/ gehst du auch mal mit/ da ist kein Lieben und kein Bekriegen/ der Powertöter"
"there you see it/ so you can feel it/ you unscrew yourself/ so that the day succeeds/ you just want to scare/ crawl in caves/ even though time is of no use/
  this is how you live/ how you turn it/ where it pushes forward/ you also go with it/ there is no love and no war/ the powerkiller"
The word switch between the pure description of a seemingly all private listlessness and weakness and hints of the pressures of everyday lifes requirements, linked to the forces of normativity and funcionality, the lyrical I only wants to escape from, when finally, at the end of the verse, the powertöter appears like a monstrous giants silhouette standing in the doorway. From this point it remains unclear if this refers to the inner depression he conjures, or the external power that has caused it, the power which kills your human power . In fact it is the image of the leviathan which casts his shadow on our daily introspective. "how do i feel?" am i fit?" or "Do you belong?" Well, Lucht seems to be sure he doesnt and  so his only conclusion is an appeal to killing the powerkiller.
"Lass Bomben platzen/ lege Feuer/ lege Feuer"
"Let bombs burst/ set fire/s et fire"
 "Don´t touch my hair" is a decisive statement, and despite it´s reserved neo soul arrangement it is underlaid with a latent aggression, which is hard to localize but ready to explode. It sets you at undisclosed unease.  "Powertöter" is an an expression of a despair that can only be solved by violence, including violence against the own life/ego. The brittle collage of Electro/punk/spoken word reveals precarious masculinity, of a white man from Berlin.
Tune in from 8 pm on Flux FMs Radio Arty for a how do black lives matter in art special. Among other artists i was invited for an interview. Created and hosted by Jan Kage. 
the talk will be held in german.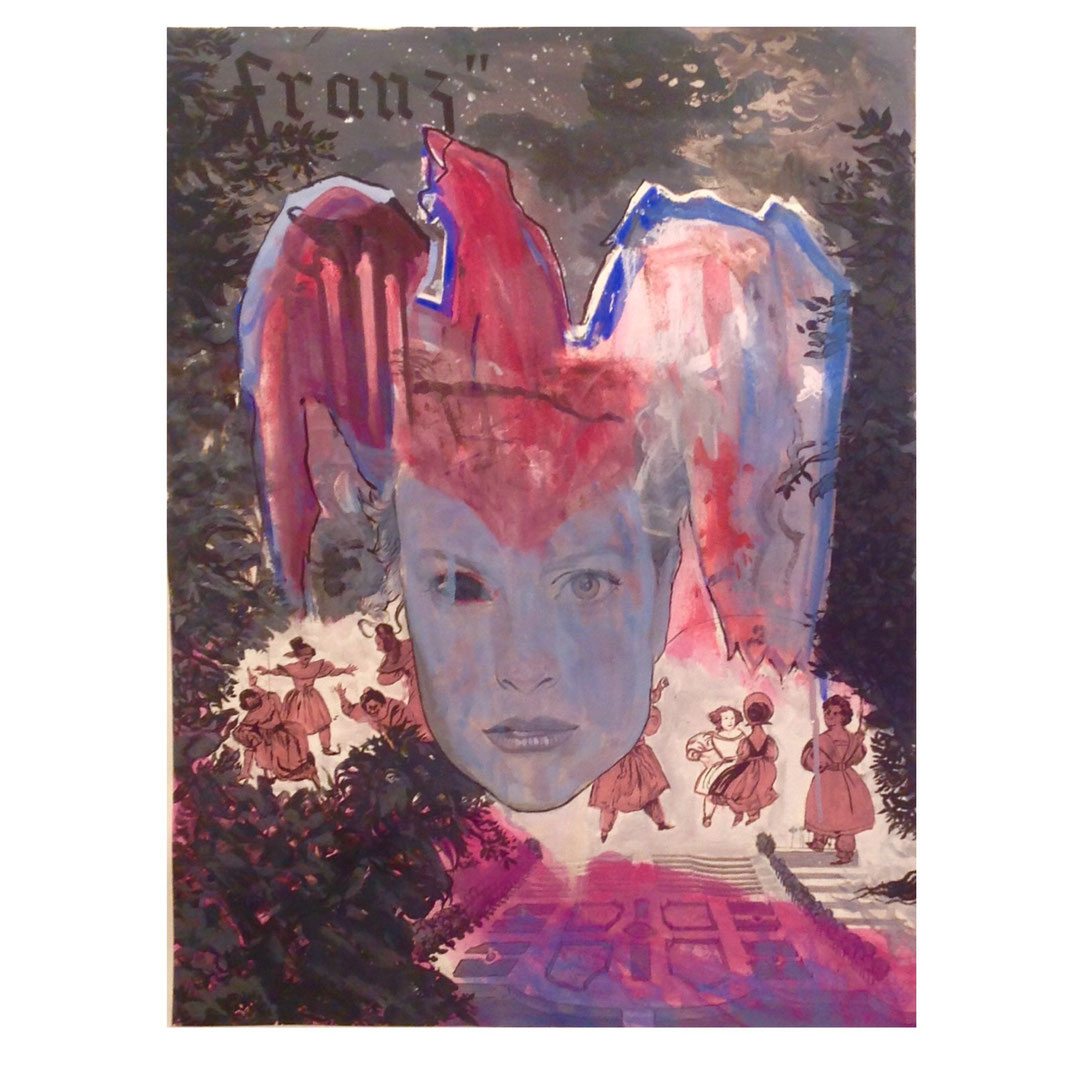 "Franz", 60 x 50, acrylic and watercolor on paper, 2019
"Black Heino", 2019, oil.Acrylic and Gouache on canvas, 60 x 50 centimeters
Wir laden Euch und Sie, Ihre Familie und Freunde herzlich ein:


Katalogpräsentation zur Ausstellung
›Salon Hansa: InterINTIMES_AutoPORTRAIT‹
&
Neujahrsempfang der Galerie

Am
Freitag, 31.01.2020  18-22 Uhr

Der Kurator Hansa Wißkirchen wird anwesend sein.


Galerie Lachenmann Art
Hinter der Schönen Aussicht 9
D - 60311 Frankfurt/Main
frankfurt@lachenmann-art.com
+49 (0)69 7689 1811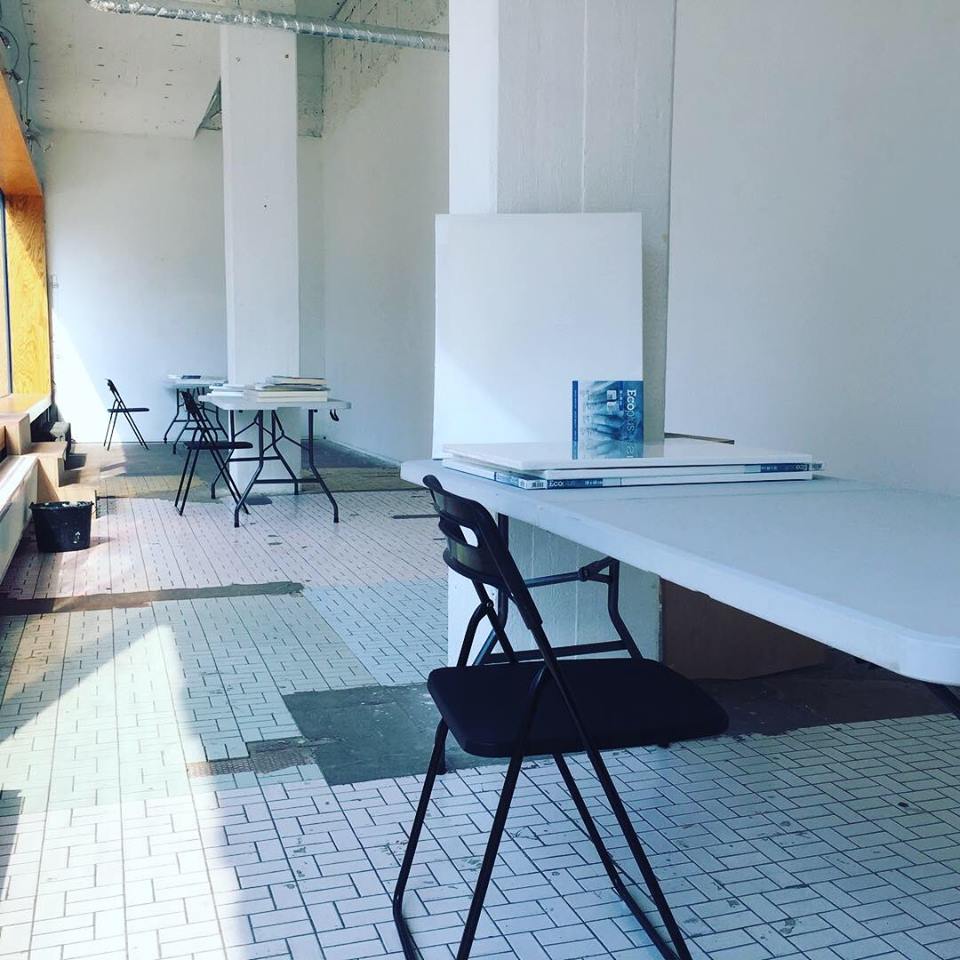 "SWEAT SHOP" 27./28.4. @Schaufenster /Lobeckstrasse 30-35/10969 Berlin
more info https://sweatshop.gallery/about/ make your order now!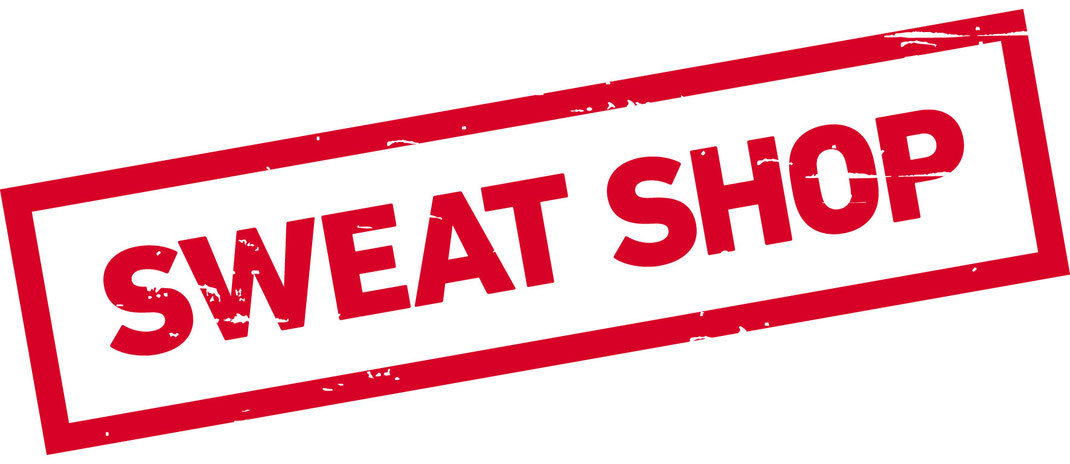 "Great Hall Of The People"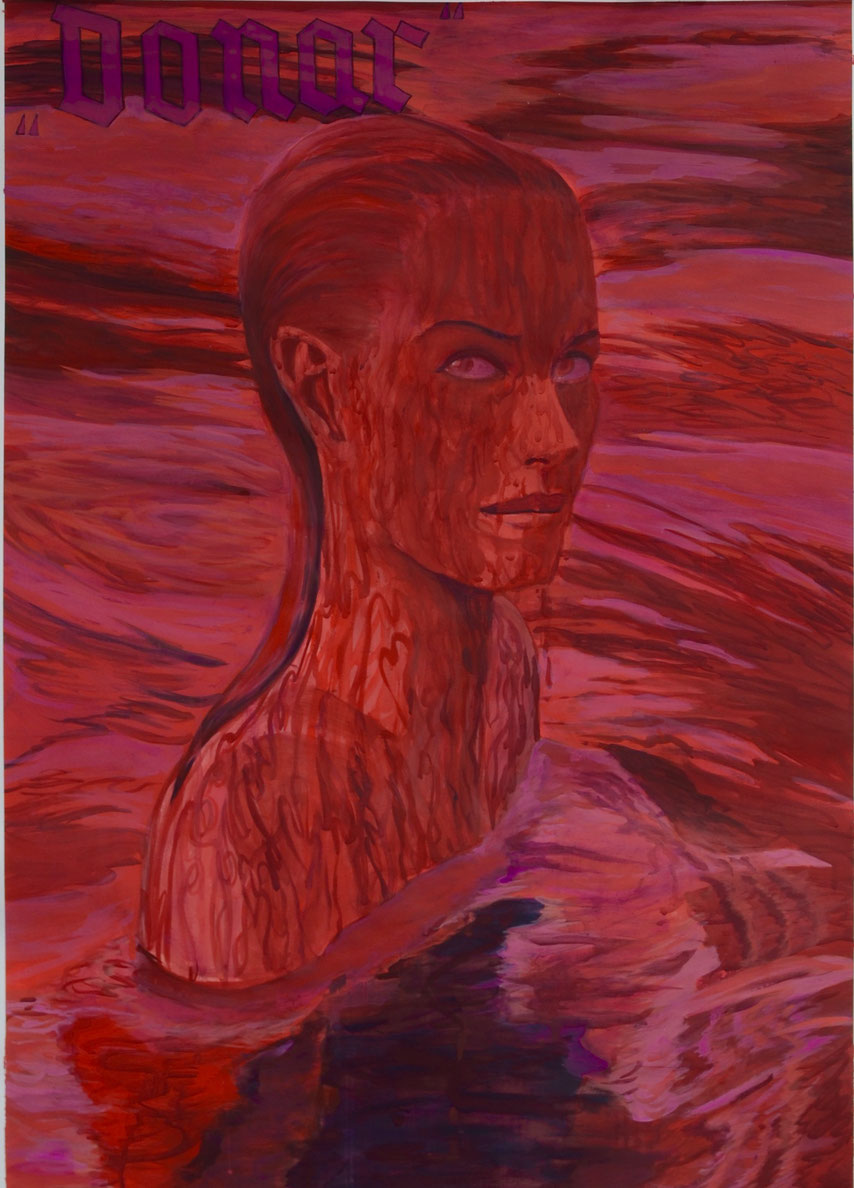 "Donar", 2018, gouache and acrylic on primed watercoler paper, 60 x 50 cm, 
"the creator has a masterplan/ peace and happiness for every man."
( Pharoah Sanders )
Henry Wollers exhibition "Great hall of the people"  inspires thoughts and questions on the meanings and functions of the exhibition and the exhibition space as an institution in general and of this very special place in particular.
A narrow space, a 13 squaremeters gardenshed,  the epitome of petty action and retreat, is turned into something beyond ist actual destination, a place where people join together for celebrating the greatness of art.
But this greatness is questionable. Given the contradictory nature of the artwork and and its institutionalized reception , the synchronicity of escapism and critique of the real,  art has to mingle with its aporetic entanglement  in economic and political power games , it remains as a demonstration of the synchronicity of inclusion and exclusion both in the social and the aesthetic sense.
An art crowd is never a good crowd.
 And yet, despite all this, there is still the open question of the  utopian potential of the art and every artwork is a materialized speculation on undisclosed future possibilities of the human condition.
The false idea of "the community",  of "the people" a faschists` regime imposed is overthrown and turned into an idea of openness, since the term "people" here is  being received in the sense Jaques Ranciere puts it in "Is art resistant ?" where he, referring to Gilles Deleuzes` chapter on art in "what is philosophy?" describes the function of the monument as one which is not looking back into history or representing the contemporary ,but addressed "... to the people still missing"  and this could mean everyone and no one. 


Thus, the associations triggered by the exhibitions pretentious title holds the tension between the  idea of togetherness and peacefulness it implies, both as  deliverance and as a tool of ideological seduction.
This inherent contradiction finds its equivalent in a series of Portaits of Grace Kelly, part of the ongoing long-time-series "Shooting Grace" (for more information please visit henrywoller.de/ "on the Grace Kelly-series"). 
They show her in different moods and appearances referring to the diverse states of the human mind in the experience of the aesthetic moment.
As the artists style, there captioned in fracture font with the prenames of german painters from the age of romance, an art epoch which stands both for the aim of the union of all artistic and scientific disciplines and, on the other hand, for  the antienlightenment, the anti-modern, the irrational and the nationalists idea .
It is a hall of fame, which due to ist tiny measures is`nt one . The presence of a legendary woman artist, who is a ghost now, impliying the presence of male artists (who are also ghosts ) in drag, which in turn is questioned by their names written in quotation marks ( indeed, this habit was inspired by record covers of The Smiths and Morrissey) .
So, who is who ? This question is less a contribution to the gender issue. It is more like a playfull mockery on our certainties . "I see what I see". No. You don`t.
The transverse format at the narrow end of the space show a picture of the gallery space drowned in nocturnal darkness,  and there is a lonesome glowing orange light, breaking out of the half open door of a tiny hut.
On the opposite side a processing of a famous still of the yard from the film  "rear window". Under a greyish and dreary sky the lights in the windows of the houses explode in all colors .  The juxtaposition  of collective isolation,self-chosen retreat and undisclosed suspense. . A suspense with the potential to set the world on fire.
*" Great hall of the people " was the name of a scheduled building project of the Nazis for Reichshauptstadt Germania, a gigantic hall designed for being capable of gathering up to 180000 people. Given to the outcome of WW ll the plan was never put into action, but according to architecture experts it would have been condemned to collapse within a few years later because of its megalomaniacal dimensions (Hitler dreamt of " St. Peters plus the square in front of it should be swallowed within one bite").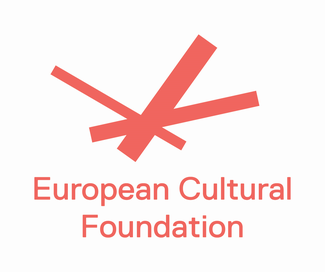 Supported by the european cultural foundation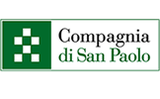 "Great Hallo f the people", solo show, Numer02, London, UK, 6.-29.4 2019
  I am represented now at artcadia-gallery.com
  14. 7. bis Ende August 2018  
Groupshow at Galerie Michaela Helfrich, Berlin
 michaelahelfrich-galerie.com
3.Februar - 25.März 2017                              
 Bernhard Knaus Fine Art, Frankfurt am Main
  "Dr. pi und die Suche nach der Quadratur des Kreises"
    Group Show feat. Aldo Cristofaro, Carsten Konrad,
    Erik Schmidt, Ralf Ziervogel and Klaus vom Bruch
    Curated by Aldo Cristofaro
Ihr könnt das Black Lives Matter-special auf Radio Arty hier nachhören :
You can still listen to the black lives matter special via this link:
https://fluxmusic.page.link/XiMW
Today from 8 pm interview on radio Arty. Host #jankage will talk with me about my exhibition "ADLER DES TODESMETALLS", which opens tomorrow at 6 pm. Tune in and enjoy.
https://www.fluxfm.de/radio-arty/
Today interview on radio Arty from 8 pm at Flux fm. Host #jankage will talk with me about my exhibition "ADLER DES TODESMETALLS", which opens tomorrow at 6 pm. Tune in and enjoy.
Kind regards Henry
https://www.fluxfm.de/radio-arty/
I will have an interview from 8 pm on radio Arty at Flux fm. Host #jankage will talk with me about my exhibition "ADLER DES TODESMETALLS", which opens tomorrow at 6 pm at gallery Vinogradov.
Please tune in and enjoy. 
Kind regards 
Henry 
Wand gegen Wand, opening at BAS art space Berlin, on August 28. It's the odd battle of square versus circle. Join us for drinks, talks and whatever could happen.
https://www.facebook.com/basgalerie/posts/943973019411759