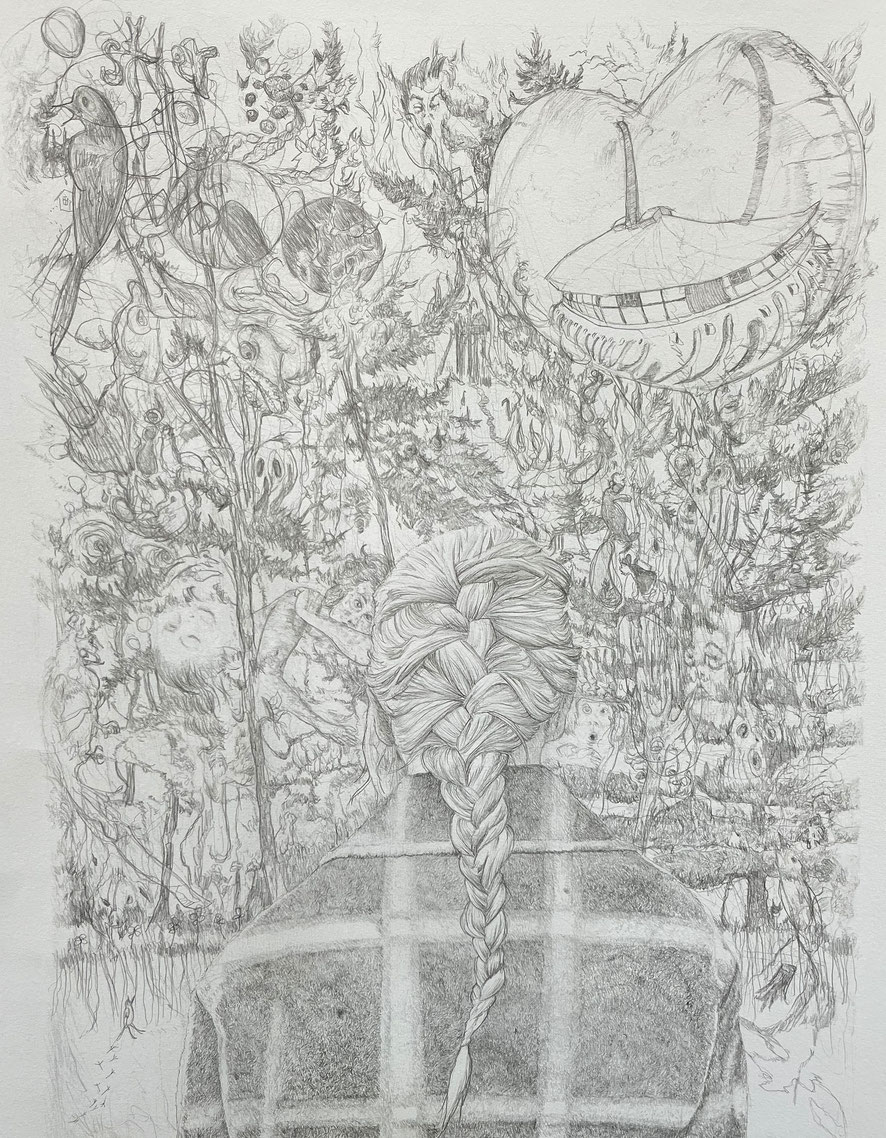 Bitte klicken sie auf das Bild/ please click the Image
                                                                               Mond über dem nächtlichen Wald
Das schlimmste Schimpfwort an meiner Schule, schlimmer als du Neger, du Jude, du Homo oder du Russe, ist : Du Ostler.
Ostler haben keine Westverwandten, bekommen keine Westpakete, tragen keine Westklamotten. Sie wissen nicht, wer Bo Derek ist und halten Rocky für einen Schlagersänger. Sie laufen bei jedem Wetter in Anoraks aus dem VEB Oberbekleidung Blankenburg rum, in denen sie aussehen, wie ihre eigenen Großväter.
Sie kommen in ihrem Zonenaufzug zur Disco, und wundern sich, dass sie nichts aufreissen. Sie gucken aus der Wäsche, wenn Jörg vor den Mädchen prahlt, er habe alle fünf Programme. Im allerschlimmsten Fall sind sie Fans der Puhdys oder von Karat und lassen sich mit deren Platten unterm Arm auf dem Nachhauseweg erwischen. Orthodoxe Ostler werden von ihren sadistischen Stasieltern verurteilt, kein Westradio zu hören und kein Westfernsehen zu sehen, und müssen dann mit abgehörtem Schulhofwissen Episoden aus Rauchende Colts oder Dallas faken, so gut es eben geht. Alle Nichtberliner, besonders Sachsen und Thüringer, sind schon Aufgrund ihrer Rasse Ostler. Wir machen den Watschelgang der Löffelschnitzer nach, imitieren bei jeder Gelegenheit höhnisch ihren Dialekt, rufen ihnen "Nuh!"und " eivorpupsch!" hinterher und die Gegenden in denen sie hausen, werden von uns mit wohligem Schauder "Tal der Ahnungslosen" genannt.
Die Ostler sind die Anderen, die absolut Fremden. Ihnen gegenüber fühlen wir Berliner uns als halbe Westler und irgendwie auch nicht mehr ganz so eingesperrt. Es gibt nur zwei Ausnahmen: Petra Klische aus der Neun b, die selbst in Rundstrickhosen und FDJ-Bluse den gesamten Speisesaal erbeben läßt .
Und Fußball. Ostfußball ist O.K. Fussball ist anscheinend immer O.K.
Auf der anderen Seite stehen die coolen Westler, die ihre Oma zum Einkaufen ins KaDeWe schicken (und deren Schwestern solange die Tüte als Ranzen benutzen, bis unser Direktor, Herr Bollwien, ihnen väterlich zuraunt, es bitte nicht mehr zu tun, auch weil die Bücher dadurch Schaden nähmen). Sie verzehren vor unseren Augen Mars und Duplo als Pausenbrot und kauen uns mit angeekeltem Gesicht, aus dem die Übersättigung quillt, ihre Erhabenheit vor. Sie besorgen aus dubiosen Quellen Levi ́s, T-Shirts mit der Skyline von Manhattan und jede Woche die neue Bravo. Eine laufende Ausgabe, zerlegt, filetiert und in Hunderte Schnipsel zerteilt, kann das Monatsgehalt einer Arbeiterin im Glühlampenwerk NARVA einbringen. Sascha Schulze, dessen Eltern beide Kellner im Palasthotel sind, finanziert sich auf diese Tour später seine gesamte erste Wohnungseinrichtung. Lange vor Gangstarap haben Ostberliner Teenies das Trabbi-Bling-Bling erfunden, aber Die Welt Will Es Nicht Hören, wie die Band aus Manchester in universalistischer Weisheit singt und deren Album The Queen is Dead kann sich der depressive Schlacks aus der Parallelklasse bei der Plattenbörse am Rosa- Luxemburg-Platz für 100 Mark als englische Pressung zocken, ein Schnäppchen.
Die Bäume sehen aus wie überall, der Himmel ist genauso blau wie überall. Ob die Spatzen, die auf dem Alex in den Mülleimern die Reste der Eiswaffeln zerpicken, gestern noch das Gleiche am Kurfürstendamm getan haben, lässt sich nicht sagen. Paare kommen zusammen, trennen sich, treffen jemand anders. Kleine Kinder quietschen vor Freude in ihren Sportwagen, ohne zu wissen, warum. Die Leute lachen am Liebsten über dreckige Witze, die vom Ficken oder von fremden Unglück handeln, die Autofahrer triumphieren, wenn sie jemandem die Vorfahrt nehmen können. Fast ein normales Land. Doch es ist ein kleines Land, die Grenzanlagen sind immer fast in Sichtweite, aber Stefan Geuthers Vater kann im Suff aus dem zehnten Stock brüllen, er werde Honecker gegen die Wand pissen, und es hat keine Folgen für ihn. Wir sind traurige Clowns, Leibeigene, von anderen Leibeigenen mit der Waffe in der Hand am Gehen gehindert. Geiseln einer Clique von alten Männern, die es nur gut meinen.
Von weissen Kids werde ich damit aufgezogen, weshalb zig Millionen Schwarze in Südafrika es nicht schaffen, eine Handvoll Buren ins Meer zu werfen. Warum schaffen wir es nicht, eine Handvoll Greise in die Ostsee zu werfen, antworte ich ihnen nicht.
Man braucht Westsachen. Man braucht sie einfach. Wenn man keine KaDeWe-Oma hat, bleiben nur Ferienjobs.
Einen Monat lang von um halb Sechs bis um halb Drei Ringe um Kaffeemaschinenkannen heften. Sich die Finger an den gratigen Kanten schneiden und für sein Fluchen
zurechtgewiesen werden, wie in der Kirche. Den Dauerdisput der Arbeiterinnen ertragen (welcher US-amerikanische Seriendarsteller nennt wohl die schmalzigste Haartolle sein Eigen).
Drei Wochen in der Sommerhitze gebückt Pilze sammeln
( VEB Champignon Biesdorf, 90 % für den Export in den Westen, der Rest an Interhotels und nach Wandlitz). In Hundert Metern Entfernung ein Männchen im blauen Perlon- Kittel. Ab und zu nimmt er die verschränkten Arme runter, schaut auf die Uhr, schüttelt den Kopf. Hält dann mit gerecktem Kinn und Handfläche vor der Stirn Ausschau wie Massa.
Einen Monat lang in den Ausdünstungen leerer Kristallwodka- und Goldbrandflaschen in einem Bauwagen an der Marchwitzastrasse leere Marmeladengläser von Löcknitzgrund sortieren, bis einen das Klirren im Traum verfolgt.
He, Junge. Hier. Jeh ́ mal inne Kaufhalle. Bring mal ne ́ Büchse Fisch mit. Keene Große, ne ́ Kleene. Rest kannste behalten .
Die Tage zählen, im Kopf umrechnen, bis das Geld endlich für ein abgewetztes Exemplar von "Emotional Rescue" oder "Powerage" reicht.
Am coolsten ist, wer direkt in Westgeld tauscht. Allein der Besitz macht einen anderen Menschen aus einem, nicht zuletzt, weil man die Potenz beweist, die astronomischen Kurse zu bezahlen*. Aber die Scheine jucken wie Feuer in der Brieftasche und die fette Ladung Werbung zwischen dem kleinen Film und Berliner Abendschau heizt das Begehren ins Unerträgliche. Wer nicht warten kann, bis sein Kurier in den Westen fährt, tauscht die smaragdgrüne Elsbeth Tucher in glanzlose Forumschecks (es hat sich rumgesprochen, dass das meiste, was es dafür zu kaufen gibt, bei uns produziert wird).
Die Extraportion Milch. Gesunde Vitamine Naschen. Die tun was. Tattoo You, letzte Woche noch von Barry Graves auf Rias 2 in Grund und Boden gestampft. The Works, schon wegen dem blau-metallicfarbenen Cover ein Must Have. Parade, ein als Genie angekündigter Youngster aus USA. Der immer lächelnde Roland Kaiser. Die wie immer gütig lächelnde Vicky Leandros. Old Tenessee Whiskey. Elf, die Milch die ihr Auto liebt. Die Silhouette des großen Korsen. Alle Sorten Ritter Sport, die beste Schokolade der Welt. Daneben, in weiss-rot, die zweitbeste Zahnpasta der Welt, beworben vom besten Fussballer der Welt. Weil du es dir wert bist. Ein furchtloser Muskelprotz riskiert es, für ein 2.99 Duschgel als Tomatenketchup auf den Klippen zu enden. Die Qualitätsprodukte von Hans Riegel Bonn, beworben vom Patron selbst, beglaubigt mit dessen ehrfurchtgebietendem Schriftzug. dafür stehe ich mit meinem Namen. Ein lachendes Kind mit Hollywoodgebiss hält einen Zuckerriegel in die Höhe wie einen Hundeknochen. Bunt umhüllte Schokotabletten, in einen Rennfahreranzug aus gelber Plastik eingeschweißt. Atemberaubende Frauen, auf Yachten, die durch ferne Gestade schiffen, schmiegen phallische Cognacflaschen an ihre eingeölten Wahnsinnsschenkel, über die die tropische Sonne in unanständigen Reflexen leckt und blicken so begehrlich, dass sie nur dich meinen können.
Ein Besuch im Intershop pulverisiert drei Wochen Staatsbürgerkunde. Der billige Glanz der Warenwelt unterliegt noch keinen ernsthaften Zweifeln und niemand, am wenigsten die blasierte Verkäuferin, kann sich vorstellen, dass was dort unerreichbar vor uns liegt, sieben Jahre später zu Alltäglichem geschrumpft sein wird. Noch mal sechsundzwanzig Jahre später ist es Tand von fragwürdiger Herkunft, bunt verpackte Ausgeburten einer alles Stehende und Ständische verdampfenden Finanzwelt, deren Brutalität sich in dem Maße entpuppt, wie ihre Hervorbringungen ihr Charisma einbüßen und die Katastrophe immer unausweichlicher scheint.
Es sei leichter, sich das Ende der Menschheit vorzustellen, als das Ende des Kapitalismus, schrieb Mark Fisher einige Jahre vor seinem Suizid. Er muss mal in einem im Intershop gewesen sein. Er muss dass Intershop-Gefühl erlebt haben, ein Gefühl, das keine Generation je wieder erfahren wird.
*Nach Meinung der Deutschen Bundesbank Eins zu Vier, nach Meinung von Sascha Dahle Eins zu Acht, nach Meinung des ZK Eins zu Eins. Im Marzahn des Sommers 1982 setzt sich Sascha Dahle durch und erhält dafür den Ehrennamen "Sascha Dahlem", der ihm so gut gefällt, dass er diesen Jahre später in seinen Pass eintragen läßt.
© Henry Woller 2022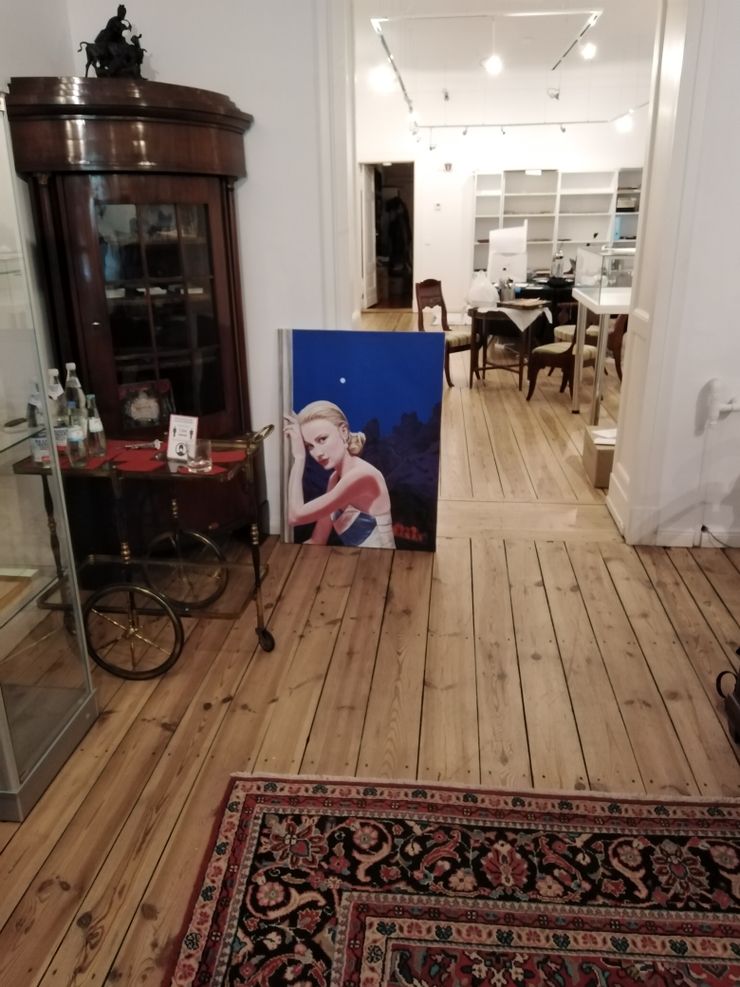 Auction "contemporary art", taking place in early november at auction house Kabinett, Berlin-Charlottenburg. More information coming soon.
BAS Galerie Soldiner Strasse 103, Berlin-Wedding, opening August, 28. from 6 pm.
curated by Igor Zaidel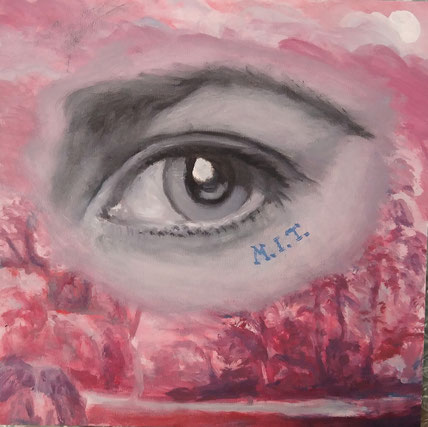 TONIGHT OPENING AT GALLERY VINOGRADOV FROM 6 . I AM GLAD TO SHORTLY ANNOUNCE A SOUND PERFORMANCE BY POWERTÖTER AT 8 PM.
you can relisten the radio arty interview for thirty days. please click here:
https://www.fluxfm.de/improgramm/radioarty/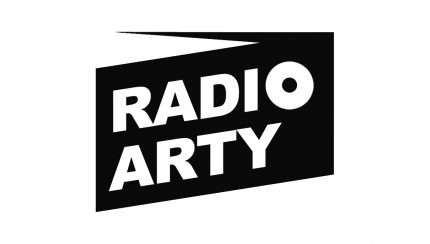 GALERIE VINOGRADOV, CHODOWIECKISTRASSE 25, 10405 Berlin  , 14-25 August 2020, opening reception on august 14. 6-10 pm.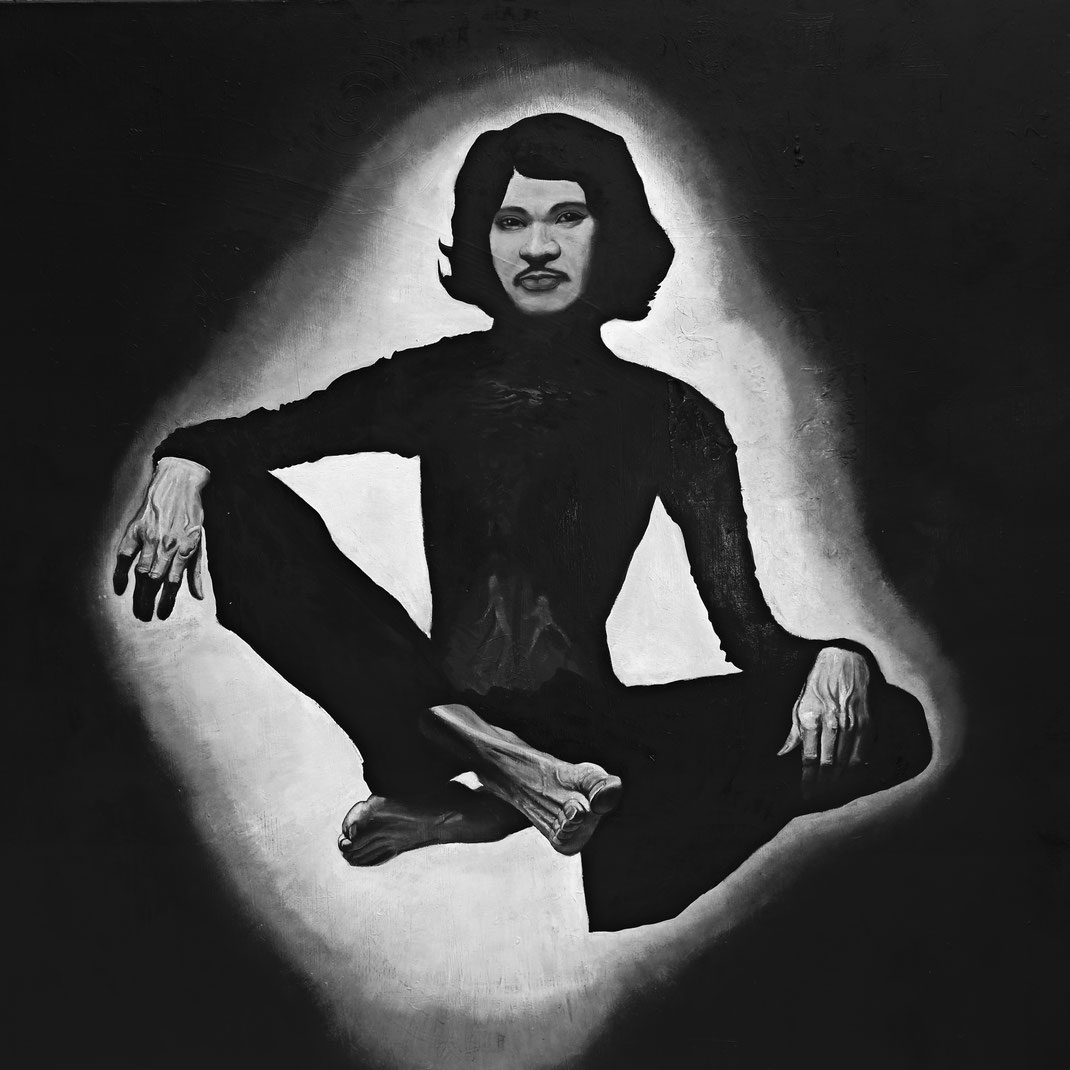 In his solo exhibition "Eagle Of death Metal" Henry Woller shows for the first time the almost complete first part of his "Shooting Grace series". Grace Kelly looks at us beautifully and nobly from these pictures. But something is wrong. The setting is barren, it is in a blue lunar landscape or in complete emptiness, it is only related to itself. The noise of the world bounces off the metallic hardness of its iconic character, is only a set for the staging of melodramatic doomsday scenarios. The picturesque ruined castle on the bank is actually a house in bombed-out Alleppo, the dancing figures in the orange hell are US police officers who are shot at by retaliatory blacks. Grace ignores all of this. She's a red-eyed zombie, an insensitive blonde beast that you'd love to blame for the impending end of humanity. From an icon of the ideal of white hypernormativity, ethnic, social, cultural, sexual, an icon of being different, the flight from the world and the amoral, its glamorous superhumanity, becomes an emblem of the non-identical. The screwed up self-image of the whites combines with the narcissism of the monadic artist to an unpleasant amalgam, the blonde narcissus is so effeminate here that he actually becomes a woman. The passive rigidity in which the Aryan goddess remains refers to the statue's persistence in itself, to the refusal of art to reveal its secret.

The quotes and allusions in Henry Woller's pictures are so complex that you can hardly grasp them at first glance. They require a patient and longer consideration. For example, the use of the quotes written in quotation marks is an indirect reminiscence of the group The Smiths and their tragic-ironic record covers, but also of Nazi propaganda posters and the dictatorship of art proclaimed by Jonathan Meese. One could initially consider the lurid exhibition title that of a Nazi war film about a squadron of bomber pilots. But isn't it rather a glorification of the destructive power of art, which rushes down on your material like a predator in order to mangle it and form something new out of it? Isn't it the self-image of the (male) artist ? Do not the first pale yellow rays of the morning penetrate through the smoke after the catastrophe of terror?
 As a supplement / corrective to these questions, there is a large black square on the opposite side, in the middle of which a snake-like hermaphrodite hovers cross-legged in a corona and into which the artist has morphed the face of Martin Luther King. Wrapped in elegant gallery black, he lets his strong, vein-soaked workers' hands hang down, like a threat, like the symbol of a potential that could turn into action, into violence. It is the hands of the fashion designer Yves Saint-Laurent, who, however, wears the haircut of the German pop singer Alexandra over his MLK mask. The chimera Martin / Yves / Alexandra is the intersectionalist ghost image, which prevents us from realizing that it may be something completely different. The figure is just a section of the picture that leads us into a nightly park landscape in which two stick figures cross the large avenue.
Opening on August 14th, 6 - 9 p.m.
wines and sparkling wines by www.kopenhagener-weinhandlung.de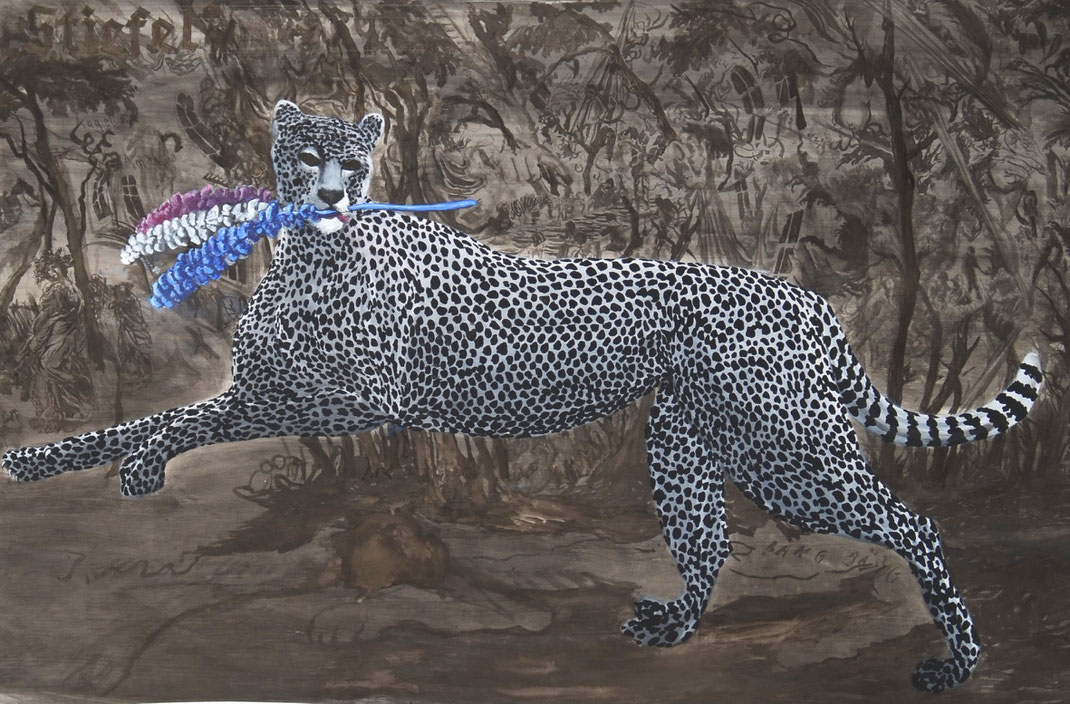 Tune in from 8 pm on Flux FMs Radio Arty for a how do black lives matter in art special. Among other artists i was invited for an interview. Created and hosted by Jan Kage. 
the talk will be held in german.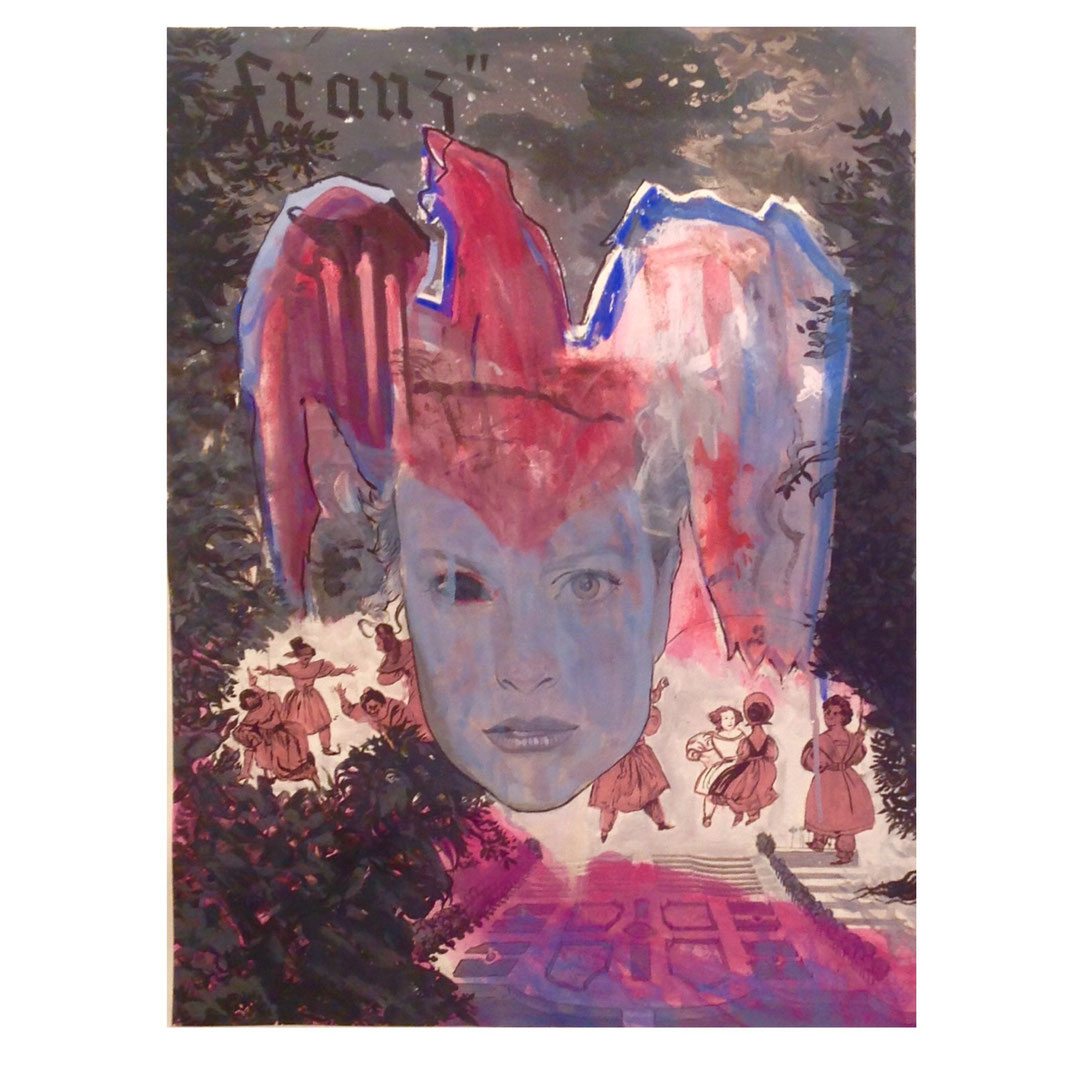 "Franz", 60 x 50, acrylic and watercolor on paper, 2019
"Black Heino", 2019, oil.Acrylic and Gouache on canvas, 60 x 50 centimeters
Wir laden Euch und Sie, Ihre Familie und Freunde herzlich ein:


Katalogpräsentation zur Ausstellung
›Salon Hansa: InterINTIMES_AutoPORTRAIT‹
&
Neujahrsempfang der Galerie

Am
Freitag, 31.01.2020  18-22 Uhr

Der Kurator Hansa Wißkirchen wird anwesend sein.


Galerie Lachenmann Art
Hinter der Schönen Aussicht 9
D - 60311 Frankfurt/Main
frankfurt@lachenmann-art.com
+49 (0)69 7689 1811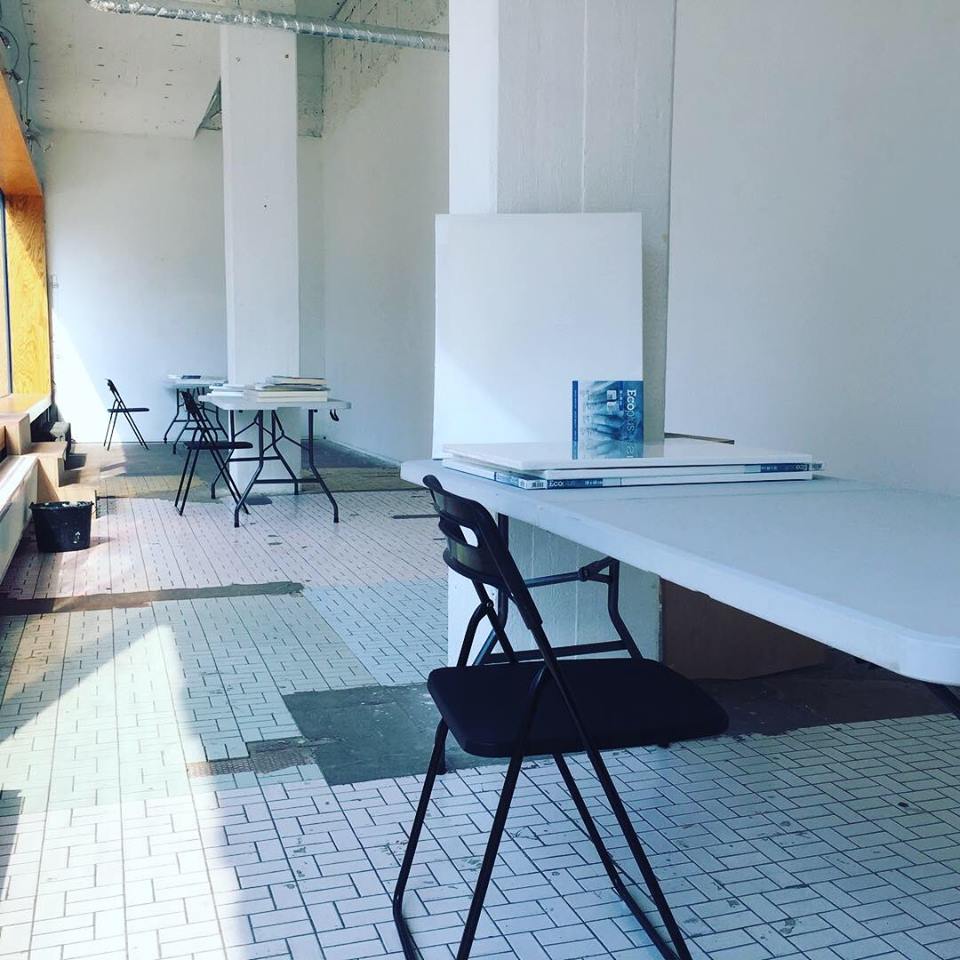 "SWEAT SHOP" 27./28.4. @Schaufenster /Lobeckstrasse 30-35/10969 Berlin
more info https://sweatshop.gallery/about/ make your order now!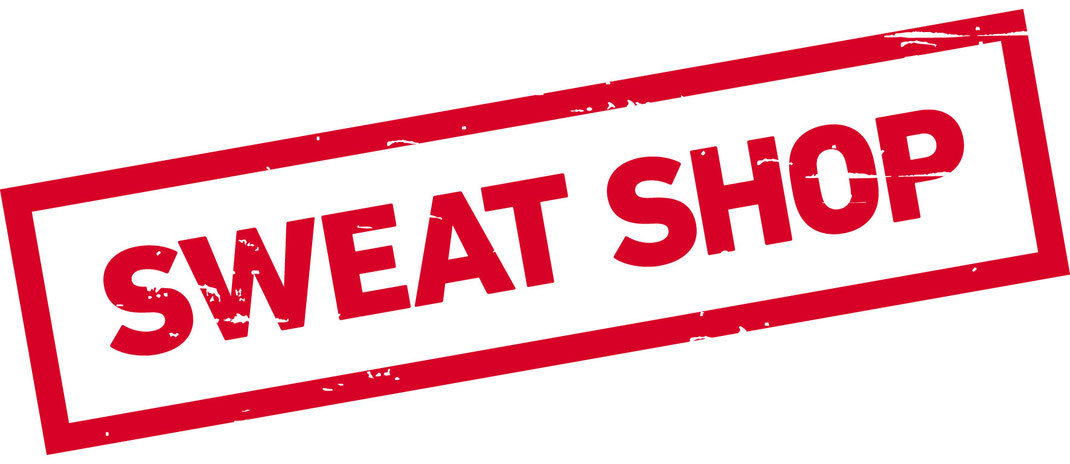 "Great Hall Of The People"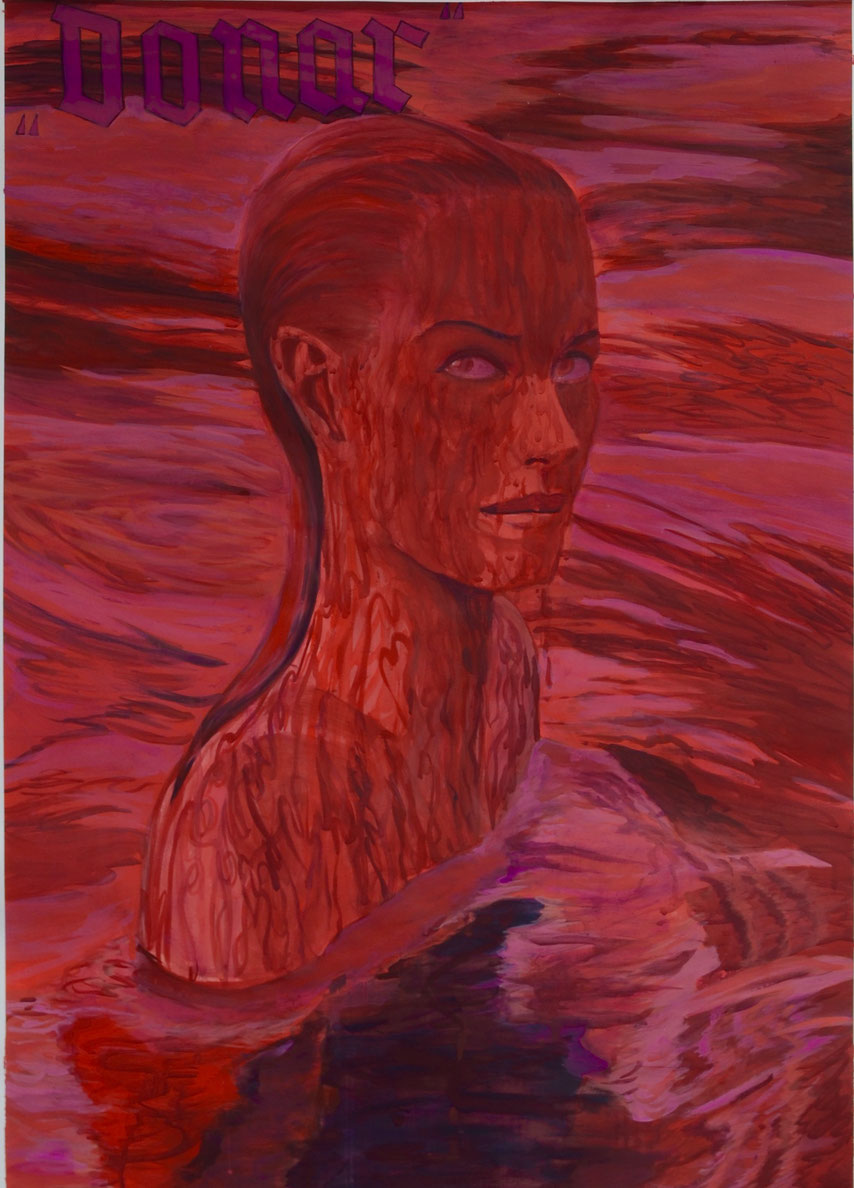 "Donar", 2018, gouache and acrylic on primed watercoler paper, 60 x 50 cm, 
"the creator has a masterplan/ peace and happiness for every man."
( Pharoah Sanders )
Henry Wollers exhibition "Great hall of the people"  inspires thoughts and questions on the meanings and functions of the exhibition and the exhibition space as an institution in general and of this very special place in particular.
A narrow space, a 13 squaremeters gardenshed,  the epitome of petty action and retreat, is turned into something beyond ist actual destination, a place where people join together for celebrating the greatness of art.
But this greatness is questionable. Given the contradictory nature of the artwork and and its institutionalized reception , the synchronicity of escapism and critique of the real,  art has to mingle with its aporetic entanglement  in economic and political power games , it remains as a demonstration of the synchronicity of inclusion and exclusion both in the social and the aesthetic sense.
An art crowd is never a good crowd.
 And yet, despite all this, there is still the open question of the  utopian potential of the art and every artwork is a materialized speculation on undisclosed future possibilities of the human condition.
The false idea of "the community",  of "the people" a faschists` regime imposed is overthrown and turned into an idea of openness, since the term "people" here is  being received in the sense Jaques Ranciere puts it in "Is art resistant ?" where he, referring to Gilles Deleuzes` chapter on art in "what is philosophy?" describes the function of the monument as one which is not looking back into history or representing the contemporary ,but addressed "... to the people still missing"  and this could mean everyone and no one. 


Thus, the associations triggered by the exhibitions pretentious title holds the tension between the  idea of togetherness and peacefulness it implies, both as  deliverance and as a tool of ideological seduction.
This inherent contradiction finds its equivalent in a series of Portaits of Grace Kelly, part of the ongoing long-time-series "Shooting Grace" (for more information please visit henrywoller.de/ "on the Grace Kelly-series"). 
They show her in different moods and appearances referring to the diverse states of the human mind in the experience of the aesthetic moment.
As the artists style, there captioned in fracture font with the prenames of german painters from the age of romance, an art epoch which stands both for the aim of the union of all artistic and scientific disciplines and, on the other hand, for  the antienlightenment, the anti-modern, the irrational and the nationalists idea .
It is a hall of fame, which due to ist tiny measures is`nt one . The presence of a legendary woman artist, who is a ghost now, impliying the presence of male artists (who are also ghosts ) in drag, which in turn is questioned by their names written in quotation marks ( indeed, this habit was inspired by record covers of The Smiths and Morrissey) .
So, who is who ? This question is less a contribution to the gender issue. It is more like a playfull mockery on our certainties . "I see what I see". No. You don`t.
The transverse format at the narrow end of the space show a picture of the gallery space drowned in nocturnal darkness,  and there is a lonesome glowing orange light, breaking out of the half open door of a tiny hut.
On the opposite side a processing of a famous still of the yard from the film  "rear window". Under a greyish and dreary sky the lights in the windows of the houses explode in all colors .  The juxtaposition  of collective isolation,self-chosen retreat and undisclosed suspense. . A suspense with the potential to set the world on fire.
*" Great hall of the people " was the name of a scheduled building project of the Nazis for Reichshauptstadt Germania, a gigantic hall designed for being capable of gathering up to 180000 people. Given to the outcome of WW ll the plan was never put into action, but according to architecture experts it would have been condemned to collapse within a few years later because of its megalomaniacal dimensions (Hitler dreamt of " St. Peters plus the square in front of it should be swallowed within one bite").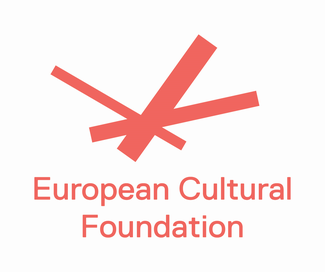 Supported by the european cultural foundation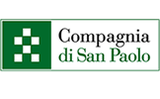 "Great Hallo f the people", solo show, Numer02, London, UK, 6.-29.4 2019
  I am represented now at artcadia-gallery.com
  14. 7. bis Ende August 2018  
Groupshow at Galerie Michaela Helfrich, Berlin
 michaelahelfrich-galerie.com
3.Februar - 25.März 2017                              
 Bernhard Knaus Fine Art, Frankfurt am Main
  "Dr. pi und die Suche nach der Quadratur des Kreises"
    Group Show feat. Aldo Cristofaro, Carsten Konrad,
    Erik Schmidt, Ralf Ziervogel and Klaus vom Bruch
    Curated by Aldo Cristofaro
Ihr könnt das Black Lives Matter-special auf Radio Arty hier nachhören :
You can still listen to the black lives matter special via this link:
https://fluxmusic.page.link/XiMW
Today from 8 pm interview on radio Arty. Host #jankage will talk with me about my exhibition "ADLER DES TODESMETALLS", which opens tomorrow at 6 pm. Tune in and enjoy.
https://www.fluxfm.de/radio-arty/
Today interview on radio Arty from 8 pm at Flux fm. Host #jankage will talk with me about my exhibition "ADLER DES TODESMETALLS", which opens tomorrow at 6 pm. Tune in and enjoy.
Kind regards Henry
https://www.fluxfm.de/radio-arty/
I will have an interview from 8 pm on radio Arty at Flux fm. Host #jankage will talk with me about my exhibition "ADLER DES TODESMETALLS", which opens tomorrow at 6 pm at gallery Vinogradov.
Please tune in and enjoy. 
Kind regards 
Henry 
Wand gegen Wand, opening at BAS art space Berlin, on August 28. It's the odd battle of square versus circle. Join us for drinks, talks and whatever could happen.
https://www.facebook.com/basgalerie/posts/943973019411759